About Roots Chiropractic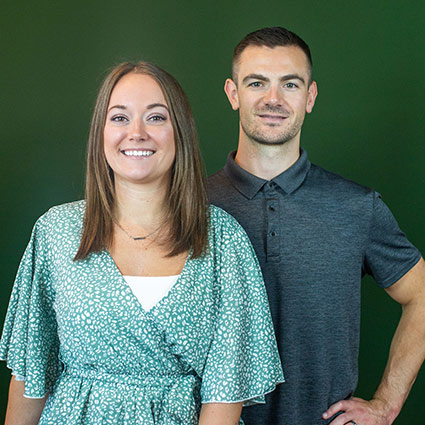 Chiropractors Drs. Lauren and Michael Wood believe the more their patients know about chiropractic, the nervous system, and health in general, the more it empowers them to make better decisions for their well-being.
Our doctors are excited to have an opportunity to help those in Gilbert and Mesa live their best lives through natural and holistic chiropractic care.
Drs. Lauren and Michael both attended the prestigious Palmer College of Chiropractic in Davenport, Iowa. They established the practice in 2020 with the intention of creating a healthier, more connected and empowered East Valley community.
Our Mission
Our mission at Roots Chiropractic is to facilitate optimal health in families and individuals in the East Valley. We welcome you and your family to our office and look forward to serving you.
One way we accomplish our mission is through education. We take the time to truly listen to you about your health concerns and goals, and then explain how your nervous system is the key to achieving the health and function you desire—without relying on medication to mask pain or other symptoms.
We want our clients to feel empowered to make the best choices for themselves and their families, so they can lead happy and healthy lives.
Celebrating Victories
We strive to educate our clients that chiropractic care is about so much more than addressing low back pain. When the nervous system is free of interference, the whole body can function at a higher level. Because we are a neurologically based practice, we see many clients suffering with migraines—which can be triggered or aggravated during Arizona's monsoon storms.
We recently helped a client in her twenties who had suffered with daily migraines since early childhood. She had tried countless doctors, specialists and medications, all to no avail. Finally, she came to us to try Upper Cervical Care. With our specific adjustments, she went from daily migraines to having them only once every few months. Her quality of life has dramatically improved, and she continues to get maintenance care to keep her nervous system working its best.
Schedule Today
Contact us today to book an appointment. We offer a free 15-minute consultation to determine if our approach is a good fit for you.
---
About Roots Chiropractic | (480) 508-1019