Meet Dr. Michael Wood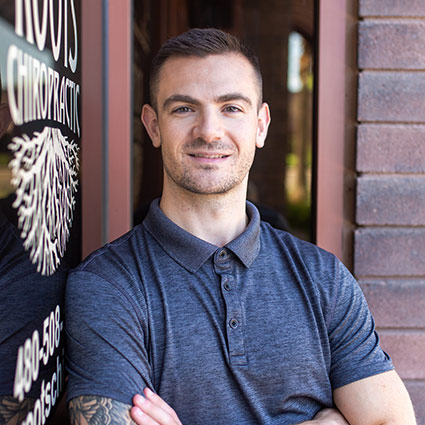 Changing Course
Dr. Michael Wood was pursuing an education in environmental science when his wife's chiropractic experience changed his trajectory. On their way to find an apartment to live in while Dr. Lauren attended Palmer, she had terrible back pain that radiated all the way to her knee.
When they arrived on campus, Dr. Lauren was able to get adjusted at Palmer's student clinic which dramatically alleviated her pain. Dr. Michael was in awe of his wife's experience and in that moment decided he too would attend Palmer to become a chiropractor.
Dr. Michael completed his Bachelor of Science and Doctor of Chiropractic degrees at Palmer College of Chiropractic. He has also completed many seminars on various chiropractic methods and techniques, leading him to focus on Upper Cervical Care because of its specificity and the fact that it leaves nothing to chance or guesswork.
Connecting With People
Dr. Michael joined
Roots Chiropractic
in 2022. He loves building relationships with clients and educating them about their body's innate ability to heal, and how Upper Cervical Care can help restore proper nervous system function.
As a lifelong competitive athlete, Dr. Michael would get chiropractic adjustments whenever he was injured. It always helped, but before attending Palmer, he never realized that chiropractic care has so much more to offer than simple pain relief. Now he ensures that everyone who comes to our office understands the importance of a properly functioning nervous system, and how our care can help optimize health and function, in addition to providing pain relief.
Enjoying the Outdoors
Dr. Michael enjoys taking care of his indoor plants and can't wait to have a large outdoor garden, like he grew up with in Michigan. He still enjoys playing and watching hockey when he gets the chance. Most of his free time away from the office is spent with Dr. Lauren and their dog Shadow, exploring all the outdoor activities Arizona has to offer.
Book an Appointment
Contact us today to schedule an appointment.
---
Dr. Michael Wood | (480) 508-1019